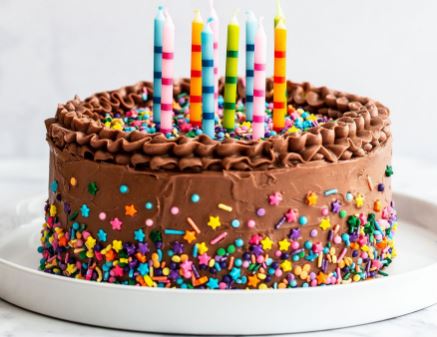 Environmental due diligence is like baking a cake – it only works if you follow the recipe!

Learn the smart lender's secret to making their cakes come out great every time.

Happy customers are the icing on top!
Environmental due diligence for commercial real estate lending has changed a lot in the last few years.
Now in the age of pandemics, Small Business Administration (SBA) lending will take on an even greater role than in the past. However, even for non-SBA lenders, "contact free" policies and procedures have a new significance. Non-SBA lenders can benefit from the policies that SBA has used and perfected for the last few years.
SBA has taken a leadership role in establishing common-sense environmental due diligence policies and procedures for lenders. They have introduced faster, less expensive tools like the Records Search with Risk Assessment (RSRA), along with protocols for proper use.
Many vendors have their own names for the RSRA report, but they are mostly variations on the SBA's theme, tailored in some cases to the needs of individual institutions.
These RSRA reports are quick and inexpensive enough to be incorporated into nearly any loan process without souring the deal. And, while they don't take the place of the Phase I ESA, they can often help determine whether an expensive Phase I is needed.
They are perfect for smaller lenders and credit unions who lend on commercial real estate but don't have in-house environmental staff, and want to keep their people focused on making deals instead of getting off into the environmental weeds.
Apply the Pareto principle.
For most lenders, most of the deals you see are going to screen out as "low-risk". You could figure 80/20 and probably not be wrong. Problem is, you don't really know which ones are going to be a problem and which ones are going to be fine until you actually screen them.

Having performed thousands of these screens, we can vouch for this.

You always can't tell just by looking. We recently had a CDC client who was backing the purchase of an empty Gander Mountain location. He had already approved the deal when he ordered the environmental screen from us, almost an afterthought. Boy, was he shocked when we had to tell him that it had previously been a plating facility, and had undergone more than 20 years of environmental remediation and legal wrangling before it was repurposed as a "brownfield" in the 1990's. But there was still contamination present.

I could regale you with scores of stories like this – I've been doing this for a long time. But you get the picture.

Process definitely matters. If you try to skip steps, you can – and eventually will – get burned.

Here's the basic SBA environmental process flow chart: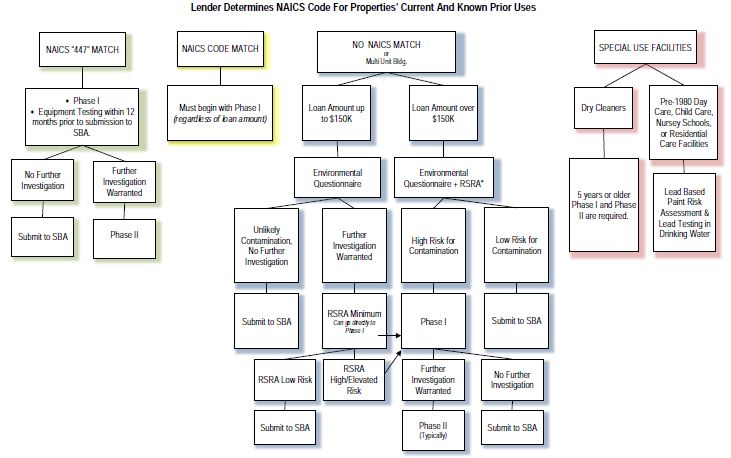 "Important takeaway: SBA's policy guidance can also be applied for non-SBA lending, and can be customized or tailored to the needs of each lender. In terms of thoroughness, the SBA process is probably MORE THAN sufficient for most lender's needs."
SBA Guidance
On April 3, 2018, Mr. Stephen Olear, SBA's lead attorney on environmental policies at the time, presented a thorough explanation of the steps to perform environmental due diligence on SBA guaranteed loans.
Here's a summary of Mr. Olear's outline of the basic environmental due diligence steps lending institutions should follow.
Summary
Is the loan secured with commercial real estate?

If yes, some level of environmental due diligence is required.
Is the commercial real estate's current or past use listed on the identified "environmentally sensitive industries?"

If no, proceed with the minimum step for that loan size.
If yes, you must begin with a Phase I environmental study. The report must be submitted to and approved by the SBA prior to loan disbursement (PLP/Express lenders can use delegated authority).
Is the loan <$150,000?

If yes, and the CRE is not identified as environmentally sensitive, you may begin with an Environmental Questionnaire.
If the loan is >$150,000 and not identified on the list of sensitive industries, you must begin with a Records Search with Risk Assessment (RSRA). (Note: you should still have the current property owner complete an Environmental Questionnaire on the subject property!)
Upon completion and review of the RSRA, the lender should follow the recommendation of the provider.

If the report indicates "No further action required", send a copy of the report to SBA underwriting for concurrence (PLP/Express lenders can use delegated authority).
If the report recommends further investigation, the lender must follow the guidance provided, usually a step to a Phase I environmental review.
Remember, there's no need to pay $1000 – $4000 and wait 2-4 weeks for a Phase I on every deal, especially when the savvy lender down the street is screening most of their deals within just a few days – for a few hundred dollars. Give us a try. Once you see how we do things, you'll wonder why you didn't reach out to us years ago.
Pro tip: Make sure whoever does your environmental screening guarantees that you won't get upsold and "double dipped" if a potential environmental issue is discovered in the screen.
This is much more than just getting reimbursed. A guarantee means you never have to wonder if there was a conflict of interest for the environmental consultant. Learn how a guarantee completely eliminates these frustrating conflicts.
MAIN BENEFIT: your institution will avoid potential costs and risks that often stem from financing a property with unforeseen environmental contamination.

BONUS: Borrowers will understand that the environmental due diligence you require as a lender ALSO protects their investment in the asset. After all, won't they sleep better knowing that their investment has been screened for hazardous contamination?
RESOURCES:
Learn more about Records Search with Risk Assessments and how to use them in this convenient FAQ guide.

If you're ready to start making things happen, just order your EZ Screen here. It takes less than a minute!

Things change fast in this crazy world! For the most up-to-date SBA policies and procedures, always check the SBA's Standard Operating Procedures – download it for free here.
Get the most up-to-date NAICS codes for SBA here.
Unique and Powerful "Clean-or-Free Guarantee" explained in 40 seconds.